About Us - Message from the founders desk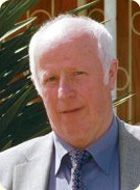 I wish to salute you all who have participated with us in the Goat farm project. Over the years I have visited Africa I have had many visions and plans on how to improve the standards of the needy in the community.
At some point in 1995-1998 I established feeding programmes for the street children in urban slums in Kenya. This though a viable project did not sink deep down into my heart because the children would come to feed and thereafter change location meaning we were not able to track these street boys/girls after the feeding session.
4 years ago I got an idea of starting a tiny project that would grow into a big empire but only with the needy children as beneficiaries. The difference between this vision and the previous one is that in this, we are able to establish a database of all the beneficiaries hence tracking and monitoring their lives and progress is made possible.
We have established goat farms for the children in Lokichar, Lodwar and Kilgoris. So far we have 209 Goats in these farms.In the long run as the goats give birth to new ones, children will have their own goat farms.
I have personally visited the farms and the children and it is a good idea that is working
I therefore invite you to participate with us as an individual, company, church or any other organization to enable us achieve this objective. You can click Donate on our website and send your donation instantly to the child.
You can also be a father or mother to an orphaned child and support as he/she grows up. Adapt a child in this way. We create the bridge as you cross over to support the child!
Have a prosperous year 2012.
Bert Boork.
(Founder)