Welcome to the Kids' Goat Farm Campaign. It aims at Empowering the Under-Privileged Children in Kenya.
It has a specific emphasis on Kids from the arid and semi-arid regions of the country which experience continous drought and are branded as the desert region.
The concept is that when the goats multiply, they are transferred to the child once he or she is of age (around 12-15 years) to start his/her own farm.
read more..
News & Events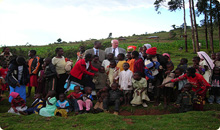 Follow the latest news and events related to
our goat farms. View detailed updates on
new births and new goat purchases.read more..
Campaign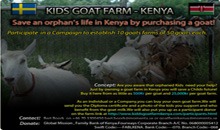 Join our Goat-Farm Campaign Now! We plan to establish atleast 10 farms with 50 goats each. Corporate participation is highly encouraged.read more..
Donate Now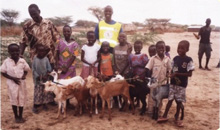 The children pictured above and many others need your help. Join us in putting smiles and bright futures to these children.
read more..